WARNING: This week's book is actually edgy YA to full-blown adult and is filled with adult content. It's absolutely not appropriate for younger readers and adults should view it as the equivalent of an 'R' rated movie.
Also, this review is a discussion of the full novel and contains all kinds of SPOILERS.
Oh, Esteemed Reader, I'm not sure if I can contain my asploding nerdiness today. I've often wondered how I might answer the 7 Questions I've been bugging other writers with for years now. By far, the hardest of the questions is the first one: What are your top three favorite books? It's a question so cruel I encourage writers to cheat, but if I were answering, there would be no cheating allowed.
Speaking of 7 Questions, we'll be starting up 7 Questions for literary agents again with two agent interviews this week to make up for lost time. I'm going to nerd out today, but Jenny Bent will be here Thursday and John Cusick will be here Saturday. Who loves you, Esteemed Reader?
But we were discussing the dilemma of having only three favorite books to choose. Which three would I choose? How would I choose? I'm certain Watership Down by Richard Adams would make the list, as would The Witches by Roald Dahl. I couldn't possibly forget It by Stephen King (I reread it every couple of years), or The Cider House Rules by John Irving, or Adventures of Huckleberry Finn by Mark Twain, and in all fairness, I ought to include Story by Robert McKee for the impact that one had on me. And what of Harry Potter and the Goblet of Fire, which I also reread every few years. And also--no, I'll stop this now or we'll be here all day, but if I've reviewed your book here, rest assured it was the one I was about to say next:)
Esteemed Reader, if I were honest, my greatest love has always been The Dark Knight Returns by Frank Miller, and no listing of my most favorite books would be complete without it. If I so much as glance at a panel from that holy grail of graphic novels, I have to sit down and read the whole thing. I've bought an untold number of copies over the years and when someone tells me they don't care for comics, I give them a copy. In a way, this is sort of cruel. How can anything they'll ever read for the rest of their lives not be a let down after they've read the finest work ever composed by a man (but divinely inspired, I'm sure)?
I know what you're thinking, Esteemed Reader: A comic book? Isn't the Ninja a little old for comic books? Well, one, if you're a writer for the MG or YA market unfamiliar with comics, you're out of touch with an integral part of the culture of your readership. No one complains about me reading books aimed at children, so why shouldn't I read comic books?
Two, this isn't just a comic book (or graphic novel if you prefer), this is a seminal work of American literature. I'm going to spend the rest of this review convincing you that Frank Miller, despite a so far disappointing later career, belongs on the same shelf as Steinbeck, Hemingway, Faulkner, Poe, and King (arguing that last name is the subject of a later post, but he's our Charles Dickens and folks will still be reading Pet Semmetary long after so many other writers' fiction is forgotten). The Dark Knight Returns is worthy of the same awed study one might give The Great Gatsby.
It's true there's a new animated movie version of The Dark Knight Returns (which is what inspired me to post this review). It's very good, despite leaving out the best lines from the book, which are internal monologue rather than spoken dialogue and would therefore have been somewhat awkward to work into a live-action version. I own the flick and I love it, but it's not the same. As is nearly always the case, the book is better, and the movie is something I enjoy because it enhances the experience of reading the book. So do yourself a favor, Esteemed Reader: if you have any interest in this story, READ it first, then watch the flick.
I will concede one thing, Esteemed Reader, which, if you read this blog regularly, you already know: I'm a Batman junkie. Any writer who includes the Dark Knight in their story has me at hello. I love Batman. I read the comic books. I've read novels, many of them just awful, and enjoyed every one of them. I sat in a theater for nine hours watching Christopher Nolan's The Dark Knight trilogy (just to be crushed by how bad The Dark Knight Rises sucked--yeah, I said it). I've seen every episode of the old 60's television series at least twice and I've seen most of The Animated Series. I own over two-hundred Batman action figures and I'm such a fan that I've seen the film, Batman and Robin, widely considered to be one of the worst films ever made (and rightfully so), more than once.
I'm conceding all this at the top of the review for two reasons: first, to acknowledge that I have more than a little bias on this subject. Second, to prove that when it comes to Batman, I know my stuff.
It's hard to surprise me with a Batman story— I've read enough of them that I usually know what's coming before the author does. I've also written over three hundred pages of my own Batman stories (and a knock-off MG novel). So when I say that The Dark Knight Returns is the finest Batman story ever told, believe that that is a statement to which I have given entirely too much thought and much of my misspent youth:) Moreover, The Dark Knight Returns is the greatest comic book ever written (Alan Moore's Watchman and Robert Kirkman's The Walking Dead come close, but both must bow before the king).
There are many things that distinguish The Dark Knight Returns from the millions of other comics that have been written, but I want to focus on tone, structure, metaphor, and theme—terms not generally associated with comic books. Before we can talk about any of those things, however, it is perhaps important to discuss the timing of this comic.
In 1986, comic book sales were in a slump and the predominant public image of Batman was Adam West, an image that had grown stale and tired. In an effort to increase reader involvement, DC comics had allowed fans to vote whether or not to kill a character named Jason Todd, who had replaced Dick Grayson as Robin. The vote to murder the new boy wonder was nearly unanimous by the few fans that bothered to vote and the sales for the issue were dismal. So when Miller approached DC comics in 1985 and asked if they would mind if he tried something new, DC executives didn't feel they had much to loose. Had Miller approached them in another decade when Batman was selling, they most likely wouldn't have allowed him to make such a radical departure.
The beginning sales for The Dark Knight Returns were slow, but with word of mouth, it went on to become one of the best-selling comic books of all time. More important, many analysts say that Miller single-handedly resurrected Batman and comic books at large. Following the enthusiasm of fans, Warner Brothers threw out a script for a Batman film they had commissioned from Superman screenwriter, Tom Mankiewicz (I've read it and it's very meh), and brought on new writers and dark director Tim Burton to make a film version of Batman that would be similar in tone to Miller's version of Batman. Without Frank Miller, we would never have gotten the first two Christopher Nolan films, and not just because Batman Begins stole whole sections of Miller's Batman: Year One.
Quick aside: The Dark Rises sucks not just because the acting is frequently awful (looking at you, Marion Cotillard) and the dialogue is pumped full of awkward exposition, but because it fundamentally misunderstands who Batman is as a character. If you kill Batman's girlfriend, he doesn't quit and cry for seven years. It makes him angrier! And he certainly doesn't quit being Batman and leave the empire to some cop just because a constantly weeping Alfred wants him to settle down. I call bull on that whole movie except Tom Hardy's Bane, who was awesome despite not being Hispanic.
Here's a link to a tumblr of people and animals dying like Marion
Cotillard
(the entire internets mock her).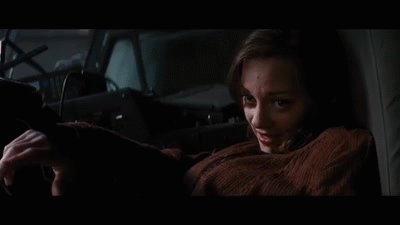 So what is it that makes Miller's Batman stand out from so many others? The most common response to this question is to site Miller's extreme departure in tone. Miller's Gotham City is a dark place, but not an unbelievable one. Gone are the laughable crooks in masks carrying bank bags of loot and saying things like, "Give me all your money, or I'll pump you full of lead." The streets of Miller's Gotham City are populated by pimps, prostitutes, drug dealers, street gangs, rapists, and serial killers.
In one memorable panel, a lowlife with a knife pulls an elderly woman into an alley and whispers the chilling words,

"HEY, MOMMIE... ...COME IN HERE WHERE ITS WARM. I NEED YOU, MOMMIE. MAKE ME FEEL SAFE. TALK SOFT..." I don't know what he plans to do after saying that, but it can't possibly be less than devastating (don't worry,

spoiler

, Batman stops him).
In another sequence, a pimp cuts the face of a prostitute in the back seat of a cab, paying the cab driver to keep quiet as he does so. When Batman arrives on the scene, he beats up the pimp and destroys the cab driver's payoff money, and while he ensures that the prostitute is safe, he makes no attempt to help her (where are the innocent citizens to sing Batman's praise?). Nearly all the street thugs carry guns, and not just revolvers, but automatic weapons drawn overly large to illustrate the danger they pose in the hands of teenagers, who appear almost unable to lift the firepower they're toting.
Batman himself is dark and bitter and not entirely mentally stable (it's worth noting that Miller was among the first to openly propose a grown man dressed as a bat might not be wholly sane). Batman drinks alcohol, tortures street punks, beats criminals to the point of hospitalization (gunning down one with an automatic weapon, but presumably not killing him), and even appears to have a sexual relationship with a prostitute (named Selina Kyle, naturally). Likewise, we're treated to a straight-edged Commissioner Gordon rationalizing shooting a seventeen-year-old street punk in the face. Although Batman has rarely been portrayed as dark as in Miller's version since, his vision of the Dark Knight set the tone for the Batman we are still reading about today—dark, brooding, and outside the law; a far cry from the wham! pow! days of Adam West.
Merely citing his departure in tone is to do a great disservice to Miller, because he's not just writing dark for the sake of being dark. The Dark Knight Returns has all the hallmarks of a great work of literature adapted to the world of comic book superheroes. Miller's true objective in The Dark Knight Returns is not just to revolutionize Batman or to tell a great Batman story, though he accomplishes both things, but to write a biting and relevant piece of social commentary. The closest literary parallel with this comic may be Mark Twain's Adventures of Huckleberry Finn, with Superman in the role of Tom Sawyer, Batman in the role of Huck Finn, and society as a whole in the role of Jim the slave.
Batman and Superman are America's mythology. Long after the fall of the American empire (it'll never happen, of course, I'm singing Stars and Stripes Forever as I write this, but if it did...), future civilizations piecing together who the Americans were would recognize the import of these characters--why else would there be representations of them literally everywhere? Look down your nose if you will, but Batman has a made a bigger impact on American culture than Jay Gatsby, Holden Caulfield, and Leopold Bloom combined. He's our Sherlock Holmes and Superman is our Hercules, and it is only fitting they have their own epic poem to sing their tale. The Dark Knight Returns is that poem as written in lyric or not, Miller's prose is poetry.
Something that is immediately striking about The Dark Knight Returns is its structure. Miller presents us with Batman at age sixty, returning to his life as a crime fighter after a ten-year hiatus. It's an odd place to begin, so when the great epic is compiled by future generations, they'll need to include Year One.
Worth noting is the way that not only Batman has changed, but also the way so many other characters, famous to fans of DC comics, have changed as well. And every character introduced in this story has a thematic purpose, from the Joker, who's grown old and passé when compared to modern monsters, to Lana Lang, Superman's high school girlfriend, who's grown old, fat (it was the 80's and the height of the "no fat chicks" bumper sticker), and bitter, because Lana's lost faith in her Man of Steel. Note that Dick Grayson, a former Robin, has become a politician and no longer wishes to have any contact with Batman.
No review of The Dark Knight Returns would be complete without at least mentioning Carrie Kelley, the first female Robin. Her journey from admirer to partner is exciting and emotional. There's also a "reformed" Harvey Dent, whose infamously bifurcated face has been corrected with plastic surgery so that both sides match (but which side, good or evil, is left for the reader to decide).
And no definitive Batman story would be complete without an appearance by the Joker. No one is more excited about the Dark Knight's return than his greatest nemesis and it's telling that he is in a near catatonic state until Batman reappears and the old clown is given a reason to live again. In a stroke of genius, Miller sets the final showdown between Batman and Joker in "The Tunnel of Love."
The most important character aside from Batman, however, is Superman. Superman is working with the United States government, which Miller goes to great pains to illustrate as corrupt. In fact, in one memorable panel, the American flag transforms into the 'S' of Superman's symbol, as President Reagan orders Superman to Gotham City to personally quarantine Batman and offers him a medal for doing so.
Much of the comic is devoted to characters on a television screen from ineffective and corrupt political leaders, to psychologists defending the Joker and Two-face, to officials declaring Batman a public menace. The purpose of these broadcasts is to show that it is American society that has become ineffective and corrupt, and Superman becomes the symbol of this. Batman wages a war on crime and Miller paints the US government as placing the rights of criminals and the interests of corporations above the rights of her citizens (where would he get a crazy idea like that?). Batman becomes the antithesis of official America, as represented by Superman.
Miller's story culminates in an all-out battle between Batman and Superman, in which Batman fakes his own death, symbolizing that the time of heroes may be over—at least, as far as those in power are concerned. Before dying, however, Batman says these words to America's premiere superhero:
YOU SOLD US OUT, CLARK. YOU GAVE THEM-- THE POWER--THAT SHOULD HAVE BEEN OURS. JUST LIKE YOUR PARENTS TAUGHT YOU TO. MY PARENTS... TAUGHT ME A DIFFERENT LESSON... --LYING ON THIS STREET--SHAKING IN DEEP SHOCK-- --DYING FOR NO REASON AT ALL-- --THEY SHOWED ME THAT THE WORLD ONLY MAKES SENSE WHEN YOU FORCE IT TO...
And with these words (arguably the greatest line every written for Batman), Batman denounces Superman and American society, then fakes his own death to escape, not unlike Huck Finn lighting out for the new territories, ahead of the rest. But the book does not end on an entirely cynical note. In the last panels, we see Batman alive and well, training an army of others, who, like him, have lost faith in convention and feel that they also must take justice in their own hands.
The Dark Knight Returns is being taught in literature classes across the country. By combining classic comic book methods with traditional literary techniques, Miller's The Dark Knight Returns has ushered in a new breed of novel: the literary graphic novel. The Dark Knight Returns is a groundbreaking achievement that has set the bar higher for all comic books that follow and redefined what is considered to be American literature.
And that's going to do it. If you're still reading, I appreciate you're being patient as I let my full geek out. Come back Thursday and Saturday. You never know. You might just find the perfect agent to represent your work. And check back in next week when I give you my word as a Ninja, we'll be discussing an honest-to-goodness MIDDLE GRADE book:) I'll leave you with some of my favorite passages from The Dark Knight Returns, each of which is tattooed on my heart forever (note, these passages were written to accompany multiple art panels and look a little silly on their own, but I've done my best to type them as they appear in the novel):
Old Bruce Wayne: THE NOSE DIGS UP A CHUNK OF MACADAM. I LOOK AT IT----THEN STRAIGHT INTO THE EYE OF THE SUN. THIS WOULD BE A GOOD DEATH... ...BUT NOT GOOD ENOUGH.
Police officer: YOU'RE UNDER ARREST, MISTER. YOU'VE CRIPPLED THAT MAN! Batman: HE'S YOUNG. HE'LL PROBABLY WALK AGAIN. BUT HE'LL STAY SCARED--WON'T YOU PUNK?
Two-face: TAKE A LOOK... HAVE YOUR LAUGH. I'M FIXED ALL RIGHT. AT LEAST... BOTH SIDES MATCH. HAVE YOUR LAUGH, BATMAN--TAKE A LOOK! ...TAKE A LOOK... Batman in response to an image of both sides of Harvey's face being hideous and a bat: ... I SEE... A REFLECTION, HARVEY. A REFLECTION.
Batman to Joker's burning corpse: STOP... ...STOP LAUGHING...
Batman to Superman: --STILL TALKING--KEEP TALKING, CLARK... ...YOU'VE ALWAYS KNOWN JUST WHAT TO SAY. "YES"--YOU ALWAYS SAY YES--TO ANYONE WITH A BADGE--OR A FLAG----THE FEEDBACK--I'M NOT GETTING A HUNDREDTH OF WHAT YOU ARE----BUT IT'S GETTING BAD AHEAD OF SCHEDULE--WHAT DIDN'T HIT YOU--AND ME--FED THIS SUIT, CLARK----IT'S WAY PAST TIME YOU LEARNED--WHAT IT MEANS----TO BE A MAN--
Batman to Superman: ...I WANT YOU... TO REMEMBER, CLARK... ...IN ALL THE YEARS TO COME... IN YOUR MOST PRIVATE MOMENTS... I WANT YOU TO REMEMBER... MY HAND... AT YOUR THROAT... I WANT... YOU TO REMEMBER... ...THE ONE MAN WHO BEAT YOU...
STANDARD DISCLAIMER: All reviews here will be written to highlight a book's positive qualities. It is my policy that if I don't have something nice to say online, I won't say anything at all (usually). I'll leave you to discover the negative qualities of each week's book on your own.